Cutting Rule Special
Cutting rules from Japanese steel rule manufacturer TSUKATANI has been a leader in terms of quality since 1951. These are achieved through specially developed grinding processes, compliance with very tight tolerances and the use of best Japanese steel.
Standard Rule Special with a shaved edge is suitable for all standard jobs. The decarburised body surface guarantees high bendability.
Type Special –  Our Standard Rule

Version: shaved

Decarburized surface → high flexibility
The rule for all standard orders
Characteristics
Thickness: 2 pt (0.71 mm) or 3 pt (1.05 mm)
Hardened cutting edge = longer service life
Degree of hardness
Body hardness: 345 HV / 35,5 HRC
Cutting edge hardness: 620 HV / 56,3 HRC
Edge shape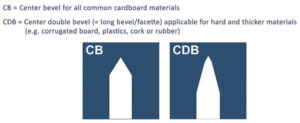 Edge angle
52° = very stable & long service life
Availability: Coils and Metre Lengths
Purchase Unit
Coil Direction