Nick Tool
Nick Tool is used for manually attaching nicks. The high-quality Japanese steel guarantees a long service life.
For better and safer handling, there is also an optional nick holder.
The classic tool
Make nicks by hand
High quality Japanese steel
Nick holder for better handling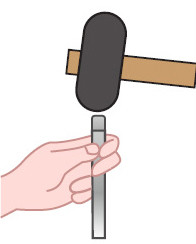 Hammers for processing cutting rules are available in different types: rawhide, plastic, aluminium or copper.
All Productvariations
| Art.No. | Info | Product | Width | Quantity | Wishlist | Cart |
| --- | --- | --- | --- | --- | --- | --- |
| MH06 | Total Length 94 mm | Nick Tool | 0.6 mm | | | |
| MH | Nick Holder | Nick Holder | keine | | | |
| MH03 | Total Length 94 mm | Nick Tool | 0.3 mm | | | |
| MH04 | Total Length 94 mm | Nick Tool | 0.4 mm | | | |
| MH05 | Total Length 94 mm | Nick Tool | 0.5 mm | | | |
| MH07 | Total Length 94 mm | Nick Tool | 0.7 mm | | | |
| MH10 | Total Length 94 mm | Nick Tool | 1.0 mm | | | |